So.
I've got about a dozen characters that need garb, and I've recently drawn out some basic, pencil sketches for six of my characters, including one that I'm making for my darling Patrick.
Details of the drawings are listed below the pictures, giving more of a mental picture of the final product.
Aelyna "Grey Hawkes" Grey, First Mate of the Rusty Cutlass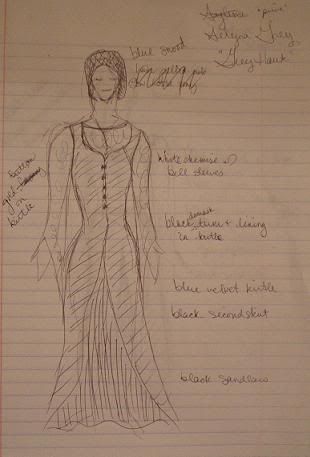 Details:
Blue Velvet Irish Overdress with gold hasps
Light blue cotton underskirt
White linen chemise with belled sleeves and collar-bone height scoop neck
Blue snood with white pearls
Black boots
Captain Quincy Hawkes, Captain of the Rusty Cutlass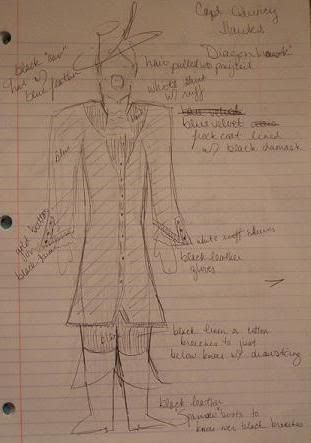 Details:
Blue Velvet frock coat, lined and trimmed with black damask
White linen shirt with ruffled cuffs and three-layer ruff at neck
Gold buttons on coat
Black leather gloves
Black Cavalier hat with blue feather
Hair pulled back into a ponytail
Black linen or cotton breeches with drawstring just below the knee
Black leather boots with fold just above Knee
Druidess Cyrwnn, Earth Spirit and Guardian of the Fairies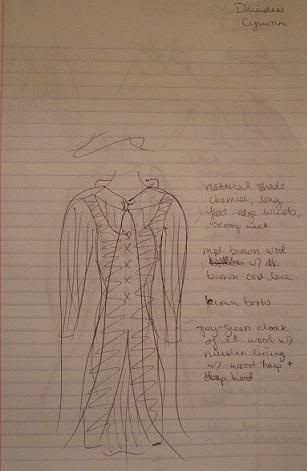 Details:
Natural shaded chemise, long, flat-edge wrists, scoop neck
Medium brown light wool Irish Overdress with dark brown lacing
Brown boots/sandals
Grey-green light wool cloak (Like LotR Elven cloaks) with muslin lining and wood hasp; deep cowl hood
Fits very loose, and very simple; no trim
Emerald Dancer, Irish Dancer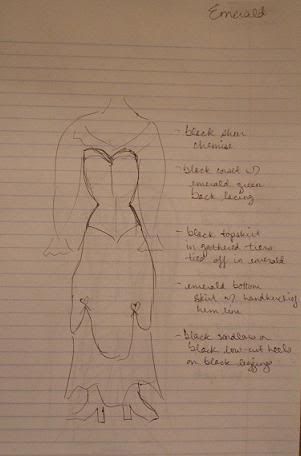 Details:
Black sheer chemise with ruff around neck
Black corset with black embroidery and emerald green lacing
Black topskirt gathered in draping tiers with emerald ribbon
Emerald green bottoms skirt with handkercheif hemline
Black low-cut heels over black leggings
Hussy Cara Greenleaf, Wench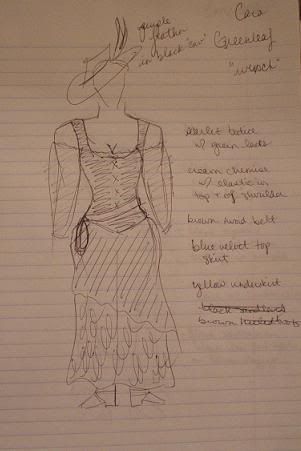 Details:
Scarlet Bodice with purple lacing
Cream-colored chemise with off-shoulder collar, elastic in the neckline; sleeves falling to just under elbows
Scarlet bottom skirt
Blue Velvet top skirt, cut on angle, lowest point just below the knees
Brown Sword belt
Brown heeled boots
Brown Cavalier hat with purple feather
Lady Cara Dragonspyre, Lady Wife of Lord Dragonspyre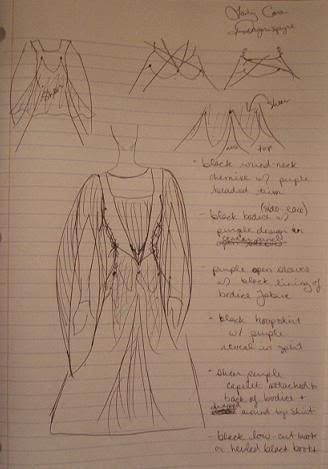 Details:
Black, round-neck chemise with purple beaded trim
Black bodice with purple design in center panel and black side lacing
Purple open sleeves with black lining in same fabric as bodice
Black top-skirt over hoop
Purple bottom skirt of same fabric as sleeves
Sheer blackish purple capelet attached to back straps of bodice
Sheer blackish purple draping over the black topskirt of hoop
Heeled black boots
Amethysts decorating hair
Silver Shadowe, Mercenary and Assassin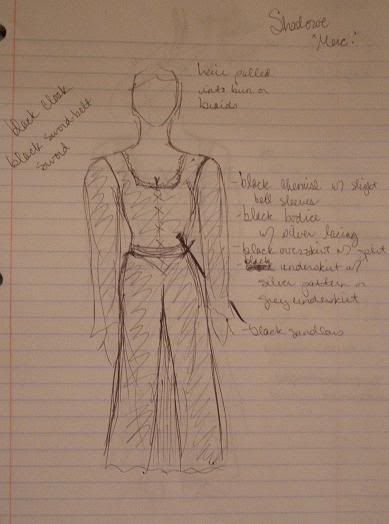 Details:
Black chemise with slight bell to sleeves, they will be close to skin, but not too tight
Black bodice with silver front lacing
Black overskirt with split front
Either Black with Silver pattern or Grey second skirt
Black boots
Black half gloves, covering back of hand but leaving fingers bare
Black cloak
Black sword belt
Hair uncovered and pulled into a low-braid at base of neck.