Ok, So here's the first installment in my dress journal.
This particular dress is going to be used for a couple of different noble characters:
Historical: Dona Mencia de Mendoza
Faire: Lady Cara de Valencia
I also may use this gown for my "Noble Con" Character.
These first pictures are from my first attempt at an historically accurate (H/A) Elizabethan Corset. I used duck cloth as my stiff inner layer instead of canvas, as the only canvas that the store had was "artist's canvas". Didn't feel like pulling it off of a board. So duck cloth worked and I used old bedsheets as the lining. I'm still debating what to cover it with, but seeing as it's going to be mainly used as underpinnings, I may just double the lining fabric and be done with it. I'm going to attmept a better one in the near future, but first I must invest in a sewing machine.
Oh, yeah. I don't have a sewing machine. Every stitch you see on this page was done by hand. This weekend I will be able to have access to a sewing machine for a day, so I will be making the chemise, finishing the skirts and hopefully making a bodice with that so that I don't go crazy with sleep deprivation before next Saturday, which is when this entire gown needs to be done.
Anywhoo. This is the picture of the channel lines drawn on the duck cloth.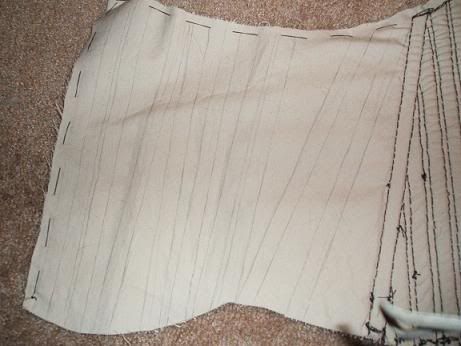 This next picture is after the channels were stitched and the cable ties that I used as bones were inserted, but not trimmed down.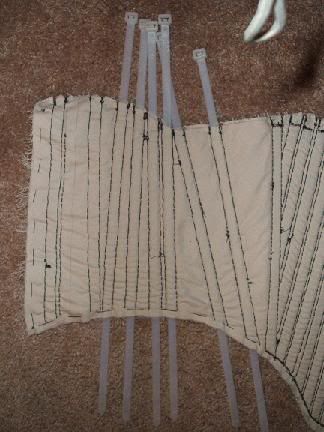 This is the center panel of the corset, all boned and final stitching done along top and bottom.
And the most gratifying picture I've ever taken. This is the finished core of the corset, taken after countless hours and bloody fingertips. I'm actually quite impressed, as it was the first time I'd ever attmepted anything of this scale or difficulty, especially since I had to draft the pattern myself and had never done that before this project.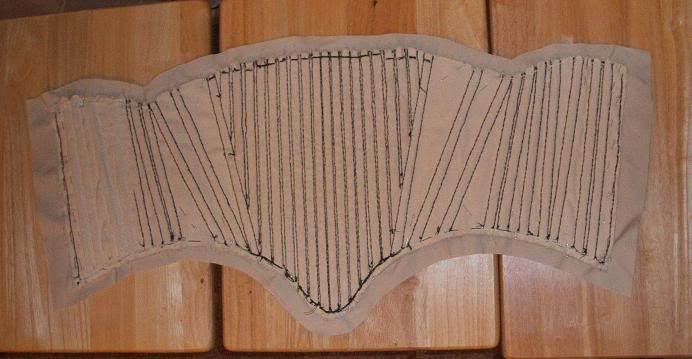 (the reason the left side looks unstitched and some of the lines look "undone" is because I ran out of my black thread and the store only had "natural" left in the particular thread weight I was using)
*le sigh*
So that's the corset. Next are the much easier, but still as mentally challenging, skirts. I decided on making two skirts, a bottom skirt with a pattern stitched on and a top skirt that has a split. I started making another dress off of a pattern from McCall's and quickly found that the size 6 for that particular skirt actually translates to about a size 12 by store standards. So it doesn't fit. So I took a skirt that fits perfectly and lays right over the hoop I have and used that as my pattern. It worked! :D That was a gratifying find.
I don't actually have a picture of just the plain bottom skirt, but I have a picture of the reveal pattern pinned on, then trimmed and stitched. You can see the bottom skirt color (a nice, naturaly shaded cream) at the corners when the skirt is laid flat.
Pattern pinned: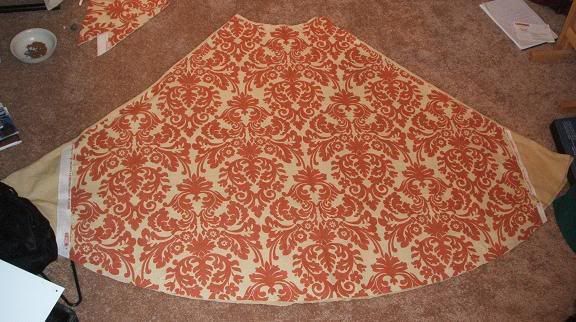 Pattern trimmed and stitched: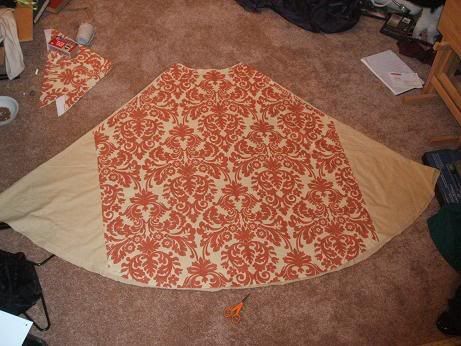 Pattern detail: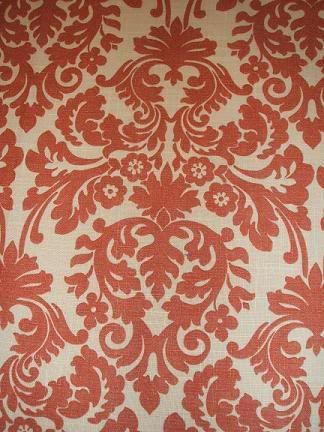 The fabric I used for the pattern is actually about a yard and a half of drapery fabric. I fell in love with the pattern and the color, so built a dress around it. I've found that that is a very fun way of starting a dress, and the drapery fabric is so much more durable and heavy, it really gives that period weight, without the heat, it's actually kind of thinly woven, so it breathes beautifully.
This next shot is the bottom skirt laid over the fabric for the top skirt (which is only pinned at this point. After I work at mother's tomorrow, I will post the pictures of everything else, including the top-skirt finished). I realy like the way the colors compliment each other. I'm going to trim all of this in a rich chocolate brown to really pull all the shades together, and wear brown boots, not that it matters, but I'm a stickler for everything matching.
That's all that I have done and photographed right now, but stay tuned and next Monday more updates will be posted!
Oh, and what would a sewing project be without helpers??