Ok, so I found the camera!!!
(It was in the pocket of one of my coats that I rarely wear. Hush you. I'm a ditz....not my fault.)
Also: I HAVE A SEWING MACHINE NOW!!! YAYA!!!! It's a loverly 1945 Aldens Zigzag and it's in fantastic condition. Here! Take a look!!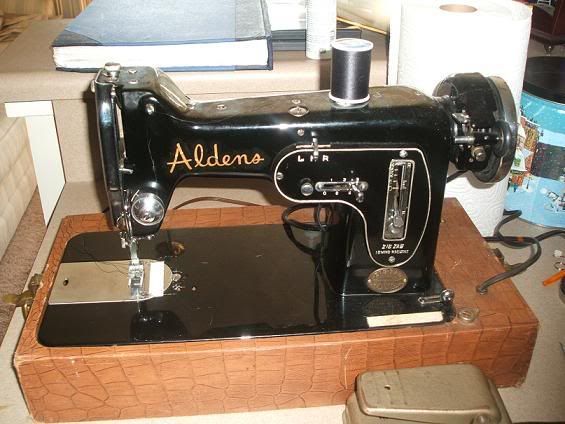 So, the effigy corset project has been put on hold, mainly because I like my fingers.
With that in mind, I was prepping to go to Ohio's Renaissance Festival, which will actually be here in about 2 days, so this is a backlog kind of dealy today, and I found that I have a new Noble's Gown pattern, and lots of gold velvet. Keep in mind I'm a bit of an idiot. So, silly little numbskull that I am, I decided that, with only two weeks until Faire, I was going to attempt to make this dress. As it stands now, the dress is almost complete, all that is left is to stitch the pleats of the topskirt, gather or pleat the underskirt, and put the grommets in. Lack of sleep and lots of pins in my fingers later, it looks fantastic.
I'm following Simplicity pattern 3782 (I think that number is right...if it isn't, I"ll come back and edit it at some point).
So here are the pictures as the dress progressed!!
I'm using a beautiful Gold crushed velvet for the over, and a lovely smooth Brown velvet for the under, with a gorgeous antiqued lace as the trim: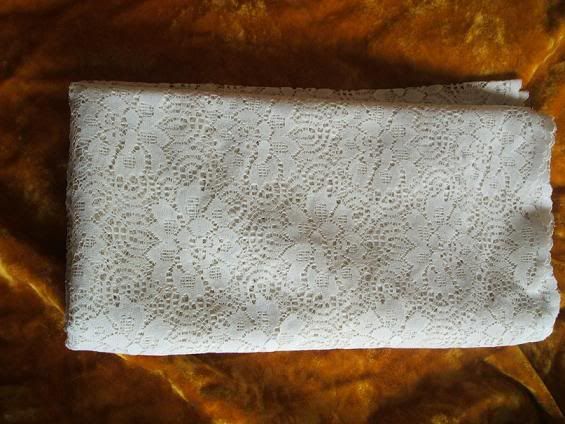 Patterning was a bear, it took almost three days to get it all organized, pinned, trimmed, and traced.... :P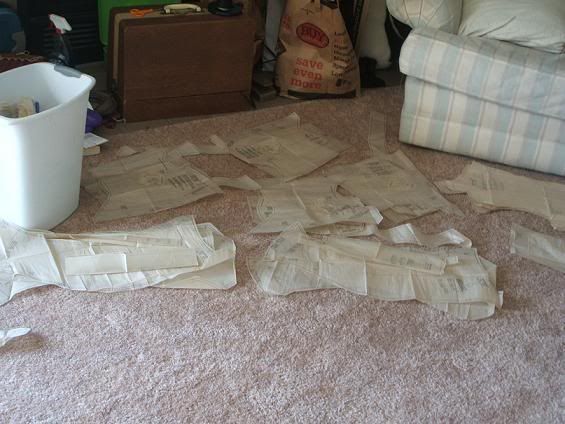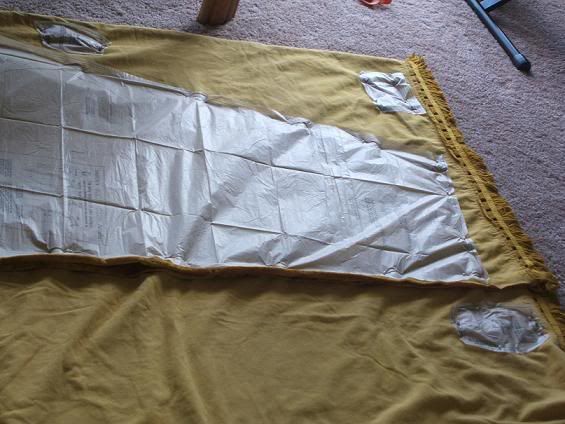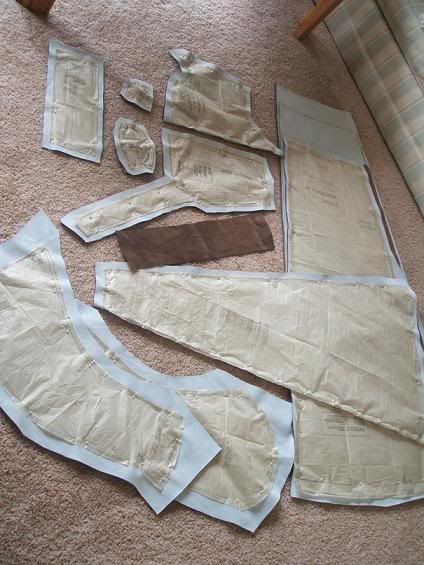 At least I had some help: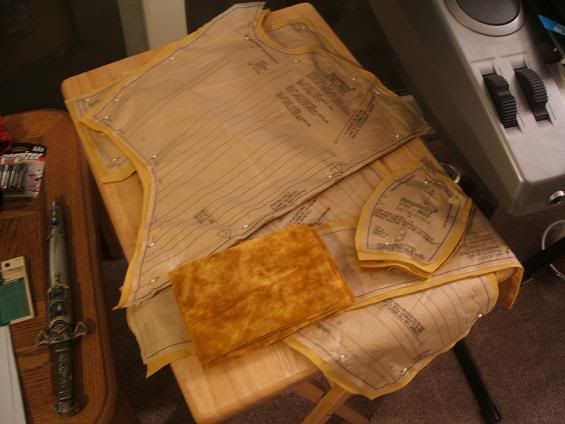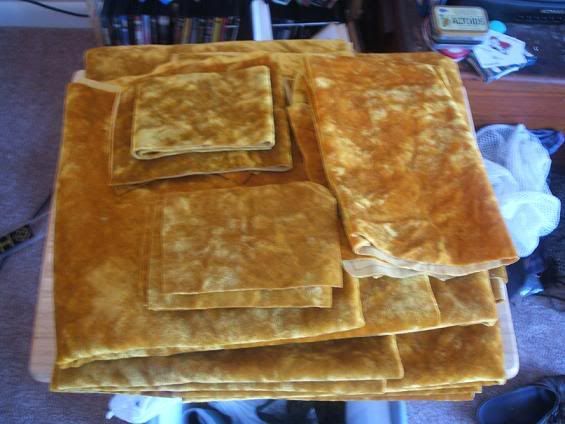 Finally, though, I could start construction!
I started with the bodice, knowing it would be the most intricate and require the most work. I wanted to get that out of the way first, considering the time crunch I was working on.
But it came together quicker than expected, and turned out beautifully!!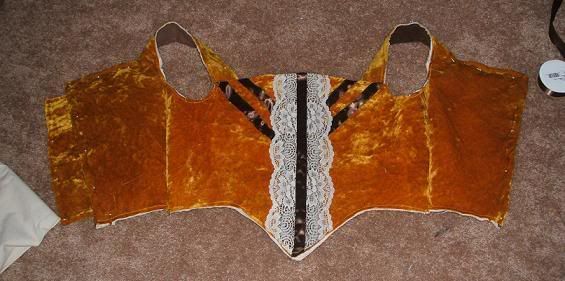 The sleeves were a bit of a challenge, but they turned out quite well! Only, once again I'm an idiot, and didn't make the sleeves detachable. ( *bangs her head against the wall* ) But I'll be buggered if they still don't look phee-nomenal!
And now we move on to the skirts. All 10 pounds of them!
Most of the time, I won, but there were a few moments wherein the velvet did triumph.
My favorite idea of the whole operation, though, is the trim. I am a poor little seamstress so I have to be creative sometimes. I didn't want to spend $30 on trim, when it could be better spent on food, so instead of scrimping, I scavenged. I actually ended up using some of the excess brown velvet, layering it the lace that I used on teh sleeves and tacking all of that on as my skirt trim! I'm quite impressed by how it turned out.
What say you?
Now here was teh most challenging part of the whole project (thus far): the pleating of the skirts. My machine, though awesomely sturdy couldn't fit the gathered velvet under the presser foot, and I am really not in the mood to handstitch that much, so after some consultation with friends, I opted to cartridge pleat the top skirt (and will probably do the same on the bottom skirt.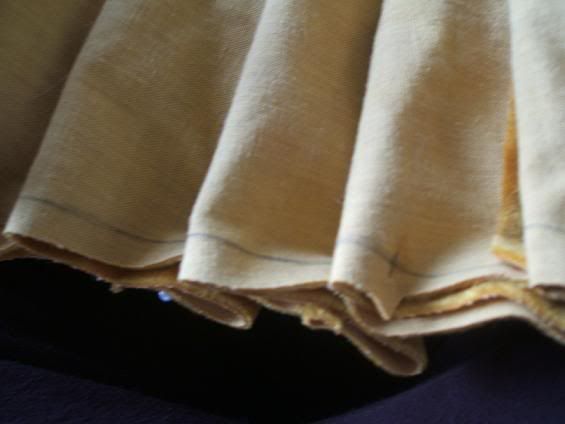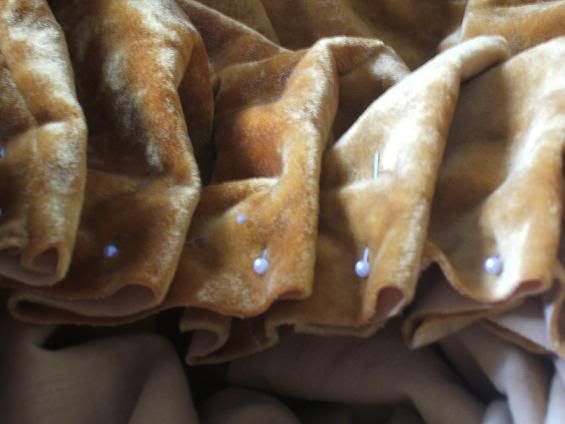 Of course my favorite little helper couldn't resist getting in on the action:
Isn't he cute folks?!
Well, that's all there is thus far, but don't fret! Now that I have my camera again, I will be able to take pictures of this dress when it's all done and get them posted fast! HUZZAH!!
So!
What do you think so far?